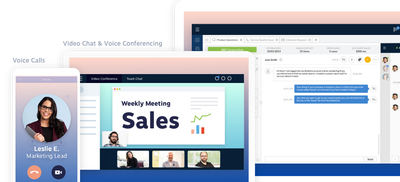 Agents with a local number have higher answer rates and are able to book more appointments and close more deals! You can have a business VOIP line for less than the price of an "A" lead!
Not sure if you are getting a call from a potential new client or maybe it the school looking for volunteers. A VOIP business line has an APP right on your phone, you can easily screen your calls.
VOIP lines have Auto Attendant feature, This gives your small business a professional sound, have calls routed to individuals or different departments. Many clients have calls routing the different departments to themselves, giving the impression of a large organization.
You can also have the option handset for your desk to make your dialing times more efficient, or you can dial directly from your computer!
3 Eagles IT Solutions focuses on the under served Agent Market. Many firms wont work with clients unless they need 20 or more lines, our group can work with any requirement, if your agency needs only one line that is not an issue, you will be treat like a customer needed 1000 lines.
We have negotiated exclusive wholes sale pricing from the NUMBER ONE RATED BUSINESS VOIP provider! This is a savings as much as 27% over listed pricing.
Complete the form below or contact us directly at 407-863-1644, we would be glad to answer any questions and get your line up and running today!